Putting together our learning of the eCommerce technology space through a simplified schematic
There are various technology pieces in an eCommerce system:
Inventory management (eg: an ERP for a large store)
Own storefront (website, app, phone orders, etc)
Marketplaces (Amazon, Flipkart, Myntra, etc)
Multi-Channel sync, a glue connecting all the above (to keep the inventory synchronized across all the sales channels like own storefront and multiple marketplaces)
Order management system (Get the orders from all these multiple channels in a single place)
CMS, a content management system to drive your content strategy for pushing out blogs, faqs, knowledgebases, stories, and more.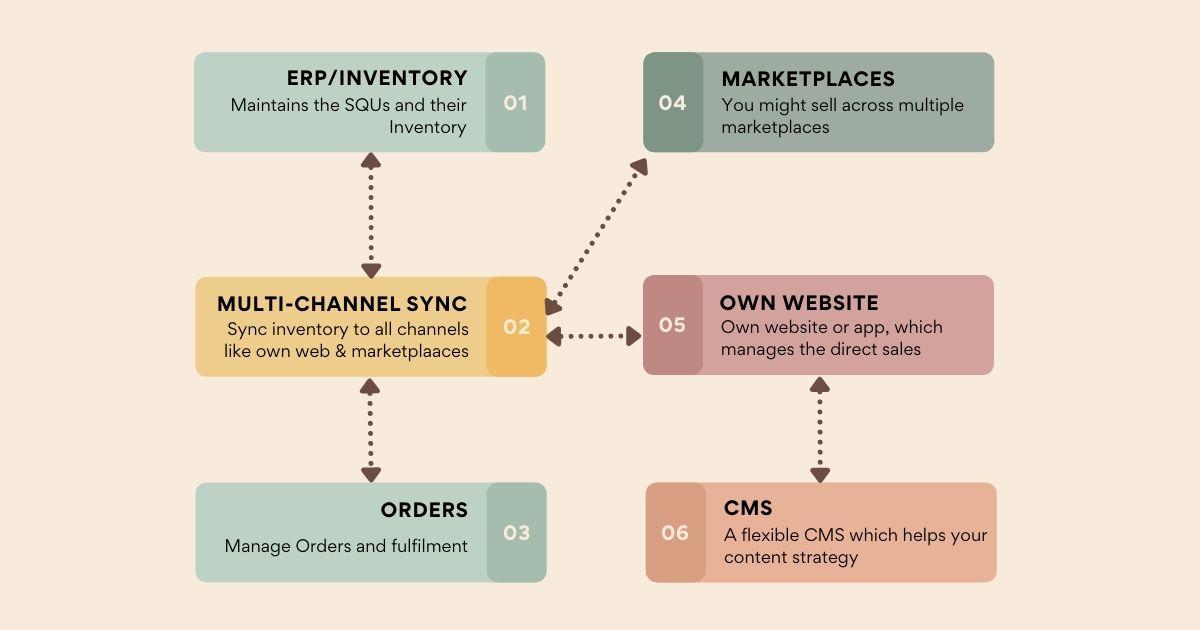 There are some distinct types of data that move across these components. On a high level, these can be categorized into the following:
Inventory - SKUs and stock levels
Digital assets - Product images, videos, etc
Content - Your storefront is the main digital content, which we commonly call a catalog. You will also have various other digital content like articles, rich product presentations (could be a rich product page on catalog), brand collaterals, advertisements etc
Though you see several distinct parts above, it doesn't mean you have to procure different tools for each. Some tools do more than one function. The key aspect is to have a holistic picture of the system before investing.
For more valuable insights and information, check out these related blogs: